The DeltaClimeVT business accelerator is a Vermont-based program serving startup and seed-stage ventures focusing on climate economy innovation across multiple industries.
As a proven leader in sustainability, Vermont offers participants access to a large number of entrepreneurial climate economy and energy experts throughout the program.
Our three immersive sprints help companies refine their vision, solidify their strategy, and enable rapid growth. Participants graduate with improved business plans, new tools to attract investors, and the potential to grow their business opportunities in Vermont and beyond.
Founder Stories
Latest News
Positively Vermont Interviews Geoff Robertson
Energy2022
The challenge
To be part of a competitively-selected, diverse cohort of startup ventures that reduce greenhouse gas emissions by enabling the acceleration of electrification. The program will focus on energy-related products or services that reduce the need for costly infrastructure or electrical panel upgrades. Selection will focus on companies that are currently at a pilot or demonstration stage and planning for scale.
The sixth DeltaClimeVT Energy2022 business accelerator program is designed to accelerate the drive to a zero-carbon future for Vermont by helping Vermont's utilities increase adoption of clean energy, smart building and electric vehicle technologies that enable accelerated integration of distributed energy resources without the need for costly infrastructure upgrades. Entrepreneurs will be working directly with Vermont utilities to contribute to Vermont's 90/50 and Burlington's Net Zero by 2030 goals.
We were particularly interested in services and technologies that have wide potential applicability with rural populations and that enable small businesses, low and moderate-income Vermonters, disadvantaged populations and multi-family building residents to participate in the low-carbon economy.
Examples of technologies or services could include but are not limited to:
Products or services that enable installation and adoption of low carbon, energy efficient or demand management technologies without the need for electric panel upgrades;
Data gathering and energy analytics software that enables greater adoption of energy efficient technologies and services;
Smart building technologies such as smart electric panel devices, building controls, smart thermostats, EV charging supply equipment and other devices that could align with utility demand response signals and reduce the need for infrastructure upgrades;
Localized or micro energy management and storage technologies and related services that enable increased electrification while reducing the need for grid infrastructure upgrades;
Financing models for energy technologies and services (e.g. innovative loans, on-bill financing, heating as a service);
Low-carbon transportation solutions that meet rural and LMI population needs to include EVs, micro-mobility, bio-fuels and hydrogen;
Any other technology or service that enables the reduction of carbon intensive energy use and greenhouse gas emissions in transportation, industrial processes and buildings or supports demand management.
Important Dates
November 15, 2021
Application opens
February 11, 2022
Extended application deadline
February 25, 2022
Cohort selection announced
February 28, 2022
Initial one-on-one meetings and prework begins
March 7-8, 2022
Virtual kickoff
March 28-31, 2022
Virtual sprint 1
April, 2022
One-on-one meetings with facilitators
May 2-5, 2022
Virtual sprint 2
May, 2022
Webinars and one-on-one meetings with facilitators
June 13-16, 2022
Final sprint (in person)
Past Winners
ENERGY2021
The Energy 2021 winner, selected through a peer-review process, is Neothermal Energy Storage receiving a $25,000 non-equity prize. Three pilot projects with Vermont utilities were also announced. Read the recap here.
ENERGY2020
The Energy 2020 winners, selected through a peer-review process, include Pecos Wind Power receiving a $25,000 non-equity prize, Medley Thermal receiving a $15,000 non-equity prize, and Wex Energy receiving a $10,000 non-equity prize. Plus five pilot projects with Vermont utilities announced. Read the recap here.
ENERGY2019
$25,000 Winner – Onboard Data of Massachusetts. Burlington Electric Department Pilot Project Winners: EV Match, Go Together and DCC. Green Mountain Power Pilot Project Winner: EV Match. Read the recap here.
AG & FOOD TECH2018
ENERGY2017
Winners – Emrgy Inc. of Georgia and A.F. Mensah of New Jersey.
"I can't recommend this program enough for early-stage pre-seed/seed entrepreneurs. With a small (highly focused) cohort, phenomenal facilitators with decades of experience, and people who truly care about helping to advance your startup in a meaningful way, DeltaClimateVT is an unparalleled program in the accelerator space."
DeltaClimeVT
By The Numbers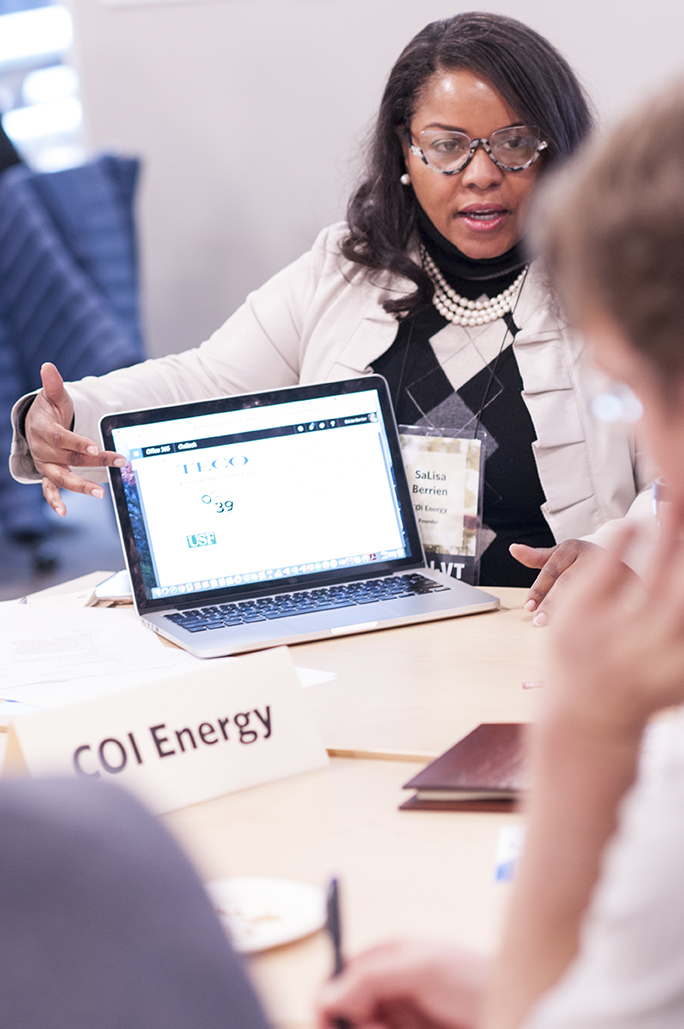 "This program clearly demonstrated that there is no better place in the United States to convene startups, investors, and industry leaders to solve important climate problems than Vermont."
Industry expertise, a network of established climate economy enterprises, and access to potential partners and growth capital are available to all DeltaClimeVT participants.
Participants are guided through the world-class ecosVC curriculum, designed to test assumptions, expose and remediate business vulnerabilities, prepare for significant investment, and provide a platform for rapid scale. All cohort Members will have the opportunity to forge meaningful relationships with high quality investors and potential customers.